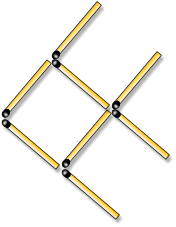 We tell kids not to do it all the time, but there is a time when playing with matches is OK. Since you've visited our Purchasing Division partners,
Tanga
, you know HMHQ is fond of brain teasers, riddles and word puzzles.
No surprise then that the lost art of bar challenges rates high in our training here. We'll get into details of how to get a drink for a dollar and pick up a cherry without touching it in another post, but for today, we're playing with matches.
In most bars you can ask for a match book and, if properly prepared, entertain a group of friends for at least 2 rounds. For example: Can you make the fish in the picture here swim the other way moving only 3 matches?
Have fun with this link to
Match Puzzles
. I wanted to bring them over, but the folks did such a nice job, why ruin it? Each puzzle has a link to the solution so you can't accidentally cheat.